Sitting at a desk all week can play havoc with your fitness levels.
This is why Esther & Natasha look for different and interesting challenges to train for.  There have been a few running events (inlucing the London Marathon) and many mud & obstacle challenges along the way but on Saturday 4th August we attempted THE challenge that almost broke us!
Here's our write up of the day:
Saturday 4th August 2018
Today was the inaugural TSFE Fan Dance Hunted event and Natasha and Esther bravely volunteered ourselves as wolf bait.
The Fan Dance is a route well-known within military circles as part of the selection process for the Special Forces.  It's a 24km route across the Brecon Beacons, which encompasses a climb to the top of the Pen Y Fan mountain, the highest peak in South Wales.
The Fan Dance Hunted event follows the traditional Fan Dance route but competitors are given an arm band and a fifteen-minute head start before a pack of wolves (super fit military personnel in yellow) are released with the sole purpose of catching entrants and reclaiming the arm band.  Add to this the anxiety of a halfway cut-off time, where those failing to meet this are removed from the hills, and you've got yourself an adrenalin pumping event like no other…
The usual pre-race nerves kicked in as we arrived for the 7.30am registration, not helped by a delayed start .
We each weighed our back packs (14lbs for Esther & Natasha) and checked our mandatory kit – 3 litres of fluids, food, spare clothes, waterproofs, first aid kit, emergency blanket, torch, compass, map, phone & watch. The briefing took place and we shuffled to the start…
Standby, Standby, GO!
The first mile, from a standing start, is UP.  A very steep, relentless, exposed path takes you to the top of Corn Du.  We both later admitted having serious doubts about our ability to complete the challenge, due to the toughness of this first mile.   Esther was caught by her wolf before reaching the summit, although to be fair almost everyone in her category got caught by him, he was fast and very hungry!  (His finishing time was confirmed as under 2.5 hours – we stood no chance!)
As we approached the top of Pen Y Fan clouds descended and visibility was pretty poor.
We stumbled our way across the peak heading for the TSFE flag and Directing Staff.
Peering over the edge we realise the route continues via a very steep descent that literally involves jumping off boulders to rocky ground below, known as Jacobs Ladder.  Gradually the boulders turn into rocks and then become uneven steps and so we hobble down as quickly as is possible without breaking ankles in the process.
Towards the bottom of Jacobs Ladder the weather clears and we have an uninterrupted view of the route ahead.  At this point we've completed just over 2 miles in one hour and have another five miles to go until the halfway point.
The cut off time is 2hrs 45mins and we're having doubts once again.
We set off along the Roman Road trotting where possible but mostly fast walking as we negotiate unstable stones, ditches and gravel.  Now the miles start flying and we're soon through the next few checkpoints and heading into the forest for the final charge to halfway.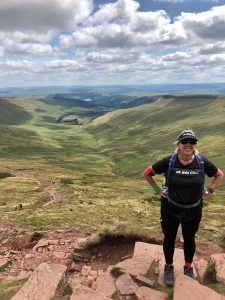 We make the cut off at just over two hours – don't know what we were worried about!
A quick bite to eat and drink and we're off to do the whole course again in reverse.
This direction feels easier, probably because we know what's to come.  We pass a few casualties with cramp and crippling blisters and offer our words of encouragement and a dextrosol tablet or two.
We're chatting as we trot which means before we know it we're half way up Jacob's Ladder.
Chatting noticeably slows as we gasp for breath and struggle to cope with the burning muscles.  Before we know it we're at the top and ready to embrace the final mile down to the finish.
Sadly, it wasn't an enjoyable down as by this point we've got aching hips, sore knees and bruised toes and the steep decline does nothing to help these ailments.
Still we both finish smiling in around five hours.  Amazingly Natasha also still has her armband as her category's wolf was having a shocking day with cramps and therefore she completed the course evading capture!
A quick photo, medal collection, presentation of Natasha's prize and its back onto the M4 for our journey home.
All the way home we agree never again but we said that about the London Marathon and both re-entered the ballot this year!
Until next time?
Overall this was an amazing and well organised event by TSFE and we extend our sincere thanks to Jason Bowen, his admin team and of course the wolves!
All entry fees were donated to the charity Scotty's Little Soilders, which is a charity with royal approval that helps children of military personnel killed in action.
We also extend our thanks to the AllGirlsUK group that supported our training with organised hikes around Box Hill and endless words of encouragement.
Watch this space for our next adventure…